Erin Hounds Christmas cards
Please click on the individual photos if you need to see more detail.
Erin Hounds Christmas Cards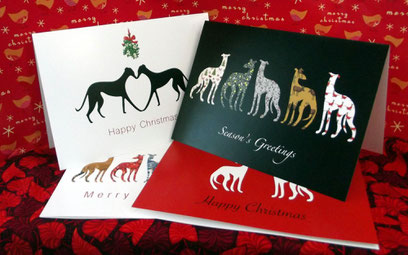 Product description: Erin Hounds' fabulous and exclusive Christmas cards 2017 designed by the very talented Gemma Coast.
These cards are made from high quality card stock and are a glossy finish.  
Each pack contains: five cards of the same design and five white envelopes. The internal message "Wishing you a very Merry Christmas and a Happy New Year"
Please note: any order containing Christmas cards may be sent using second class postage due to the high postal costs. For further information: please follow this link and everything you need to know is under Postage and packaging.

Like the idea of a greener solution to sending paper cards, something even more personal than a social media message and helping your favourite charity Erin Hounds?
Erin Hounds are now a listed charity on DontSendMeACard.com and we have a wonderful selection of e-cards for you to send for any occasion. Every card you send means we receive a donation for the value of that card (and it's a very healthy percentage that comes to us).
The e-cards selected for Erin have been created using images of our own Erin Hounds' hounds and our wonderful supporters' photographs. There are even cards for a dog's special occasions: Happy Gotcha Day and Welcome to your new home.
http://www.dontsendmeacard.com/charities/KG9M
It is simplicity itself to send a card: click on the link above, select a card, compose your personal message, donate any amount and pay by Paypal or credit/debit card and send.