For Hounds - Bandanas and Snoods
 A small selection of dog bandanas and snoods. Most sighthounds 'don't do the cold' and will thank you for making sure they're cosy and warm. Who says these homed hounds are pampered!
One of the star attractions at our Meet and Greets have been Rosey, Rick and Ted their gorgeous greyhound. Rosey is usually found serving teas, coffees and delicious cakes and Rick is on the "Knitted stall" selling knitted items galore. The rest of the year they're found helping and organising tin collections in Macclesfield, Buxton in all weathers and helping find our wondeful hounds homes. They're all round super - supporters and we can't thank them enough. How many of you can remember Rick as Mrs Santa Claus . . .
Please click on the individual photos if you need to see more detail.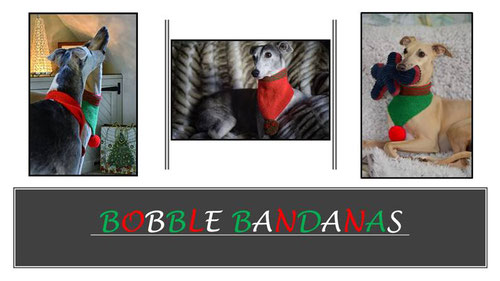 Price: £6.00 (inc. P & P)
Bring a little festive cheer with these fun bobble bandanas.
BIG thanks to Ruth, for knitting to support sighthounds, and to her beautiful models – Star (found on the streets of Ellesmere Port) and Phoebe (Just Whippets Rescue 'Miss March' 2021 calendar girl!).
Available in red or green. Select choice and we will do our best (can't promise). Trims vary.
Please state if small lurcher or greyhound/larger lurcher. The size is more about the length of the triangle than it is the circumference of the head hole incidentally.
The 'small' is quite a bit smaller than the 'large', but not small small  i.e if you bought the small for your Yorkshire Terrier it would be more like a poncho than a bandana! 
Limited stock!
£6 inc P&P.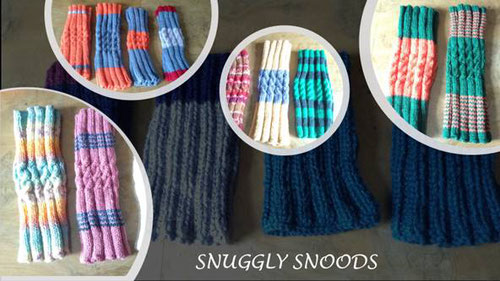 Small selection of snuggly snoods. £7.50 inc P&P.
Pictured are regular cable style suitable for most hounds. There are also a few dark chunky wool snoods for hounds with wider necks.
Please indicate your preference by email to rosey@erinhounds.co.uk and she will do her best!